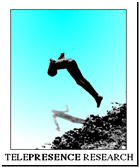 ---
Partners
in the
Telepresence
Alliance
---
Crystal River Engineering, Inc.
Crystal River Engineering, Inc., the only supplier of state -of -the art three-dimensional audio technology, a crucial component of effective virtual environments. It is best known for the design and manufacture of the Convolvotron(TM), a very high-speed digital signal processing system capable of producing real-time externalized 3-D sound cues. Based in Groveland, CA, Crystal River has been supplying breakthrough audio technology since 1987 to clients in advanced flight simulation, audio recording, and motion picture, radio and advertising production, as well as virtual environments. The Convolvotron was first developed by Crystal River founder and president Scott Foster for the NASA Ames Research Center.
Eccosys Ltd.
Eccosys Ltd. was a Tokyo-based Company specializing in Internet and IP-related software development and system integration . Eccosys is currently helping businesses establish Internet servers, and will continue to help more organizations get online as the basic Internet infrastructure develops in Japan.
Eccosys is also engaged in electronic commerce experiments and innovative WWW technology development. Eccosys designed, developed, and maintains Shima Media Network, the first Internet-only news network from Japan, as well as MacZone Japan, the first WWW catalogue online in Japan. The president of Eccosys is Joichi Ito, a well known pioneer in electronic networking.
Fakespace, Inc.
Fakespace, Inc., is a primary supplier of virtual environment display technology and virtual software design. Established in 1988, Fakespace is run by its founder and president Mark Bolas. Fakespace's expertise in visual display design, mechanical engineering, camera platforms, robotics, and virtual environment software design has led to products that are central to the latest interactive and virtual technologies.
The Binocular Omni-Orientation Monitor (BOOM) is a high resolution stereoscopic viewing device that enables interactive and real-time view-point control of camera- or computer-generated 3-D environments.
The Molly is a tele-operated camera platform that transmits sounds and images from remote locations. With its unique mechanical design that allows complete rotation on all axes, the Molly pans, tilts, and rolls in real time to track the users head motion, giving the sense of telepresence.
Telepresence Research was an approved Value Added Reseller of products from Fakespace, Inc.
---
| | |
| --- | --- |
| | Return to Telepresence Research Home Page |
---
Copyright ©2002 Telepresence Media. All rights reserved.
Revised: 1-10-96