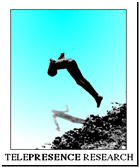 ---


Background
Information

---
SERVICES:
APPLICATION DEVELOPMENT AND SYSTEM INTEGRATION
Contract research and development services including concept development, product design and prototyping, and system integration for Virtual Environment and Remote Presence experiences.
Virtual environments are computer-generated worlds that users may enter and take action in via telepresence technology. For example, a person might directly explore a molecular model, an ancient city, or an imaginary planet and its inhabitants.
Remote presence utilizes such technologies as head-coupled video cameras, other remote sensing technologies, and robots to enable people to experience and take action in real places that are physically distant, hazardous, or inaccessible; for example, a coral reef, a space station, or a nuclear reactor.
PRODUCTS:
"TELEPRESENCE: DEVELOPING A NEW MEDIUM"
Comprehensive design studies on all aspects of telepresence technologies, design, applications, and prospects (aka: Virtual Reality, Artificial Reality, Virtual Environments, etc.). Examples include: history and comparisons with other fields; review and analysis of enabling technologies; Industry overview from research efforts to providers; patent review; survey of applications and markets; key research issues and challenges.

Price On Request
TELEPRESENCE MOBILE ROBOT
This integrated system consists of a boom-mounted monochrome or color stereoscopic viewer, a wireless communications package, and a self-powered mobile platform carrying a telepresence camera system and range sensors. The three-degrees-of-freedom camera mechanism tracks the user's head in real time, allowing the user to feel he is actually present in the remote location.

Price On Request
---
| | |
| --- | --- |
| | Return to Telepresence Research Home Page |
---
Copyright ©1998 Telepresence Media. All rights reserved.
Revised: 2-20-95